How We
Win
Kim Nguyen-Penaloza represents the next generation of new American leadership.
A millenial, pro-choice, bi-racial daughter of an immigrant and a refugee, Kim Nguyen-Penaloza is the face of political change in California and Washington.
CA-45 is one of the best pickup opportunities for Democrats in 2024!
A Biden +6 district, the demographics and voter registration give Democrats an edge.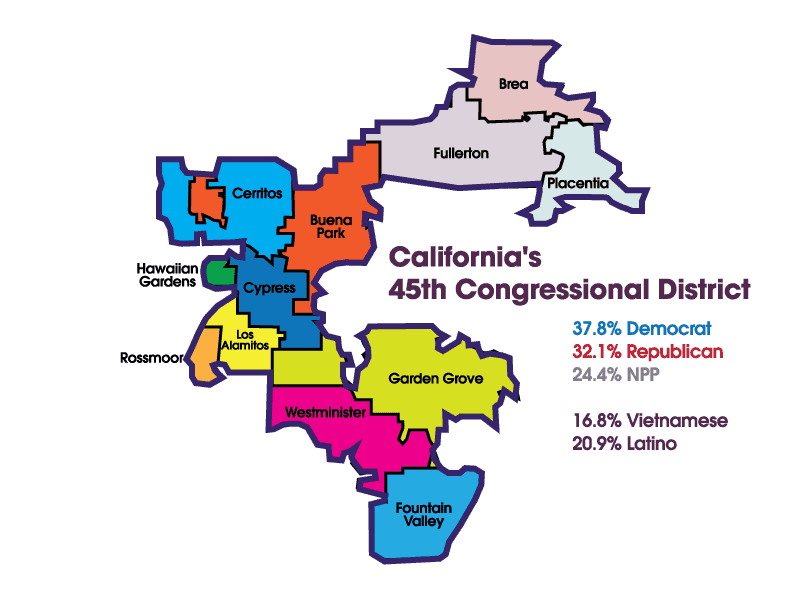 Asian American Pacific Islander (AAPI) and Latino voters are a majority of the district at 51.6% -- with Vietnamese voters making up the largest block of AAPI voters at 58.4%.
CA-45 is anchored around Orange County's Little Saigon, home to the largest population of Vietnamese in the world outside of Vietnam, and includes many neighborhoods that feature Los Angeles and Orange County's growing Asian-American population.
If elected, Kim would be the first person of Vietnamese descent ever elected to congress from California, and only the third in US history. She would also be the first Asian-Latina woman in Congress and one of a growing group of millennials seeking to make change on our most crucial issues.
Help us make history and flip CA-45 blue!